The buffet prepared by my father for His Royal Highness Prince of
In the area video is possible to see the buffet...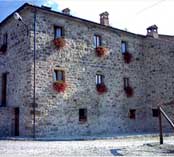 To 350 meters from the limpid and fishy waters of the Marecchia river, IL CASALONE, is the fruit of the careful conservative restoration of the " castrum sancti paterniani" documented since 1264.
The particular forest gastronomy, the business truffle-growing, the didactic hall, the publications, the rural library, the historical archive of family Tocci and the guided visits, make "Il Casalone" the place where farm holidays becomes sylviculture holidays.
Sylviculture holidays = a reproducing pause to the discovery of the wood and his incomparable tastes.


(Read other news of this category...)
The buffet prepared by my father for His Royal Highness Prince of
by Staff
In the area video is possible to see the buffet prepared by my father Augusto for His Royal Highness Prince of
of Wales with produces of our forest: herbs, little fruits, musherooms, and truffles